I'm a geek…
And, I'm fine with that.
Being a geek is cool these days. Probably because geeks like me are behind the most exciting things happening online.
Like a lot of "80s kids," I was sucked into the world of video games; and at 11, I was obsessed with the technology behind them. In a way, you might say learning how to program in Basic on my Commodore VIC-20 helped prepare me for work I would later do for BMW, Lincoln Center, The Bermuda Department of Tourism and Wells Fargo.
Today, as a professional, I get the opportunity collaborate with talented and forward-thinking interactive strategists, designers, animators and developers who are constantly pushing themselves to innovate. We help everyone from national real estate companies to health care companies to universities create an online presence that is engaging, tells a story, and more than anything, serves a purpose.
The geek in me can't help but point out that we are developing sites that are very cool. The suit in me, though, is equally excited by the fact that we are helping businesses and changing the way people shop and interact—even the way people live.
Given the state of technology today, the virtual world is no longer a destination; instead, it has become seamlessly integrated in our lives. This is due to a number of reasons; it is part design, and part web application—giving us the technology that allows us to engage people on a personal level.
It's funny when I think back to the hours I used to spend with my VIC-20 and Atari video games; how far we've come. It feels like I am on a great adventure of ideas and innovation, one that started for me in the 80's and continues today.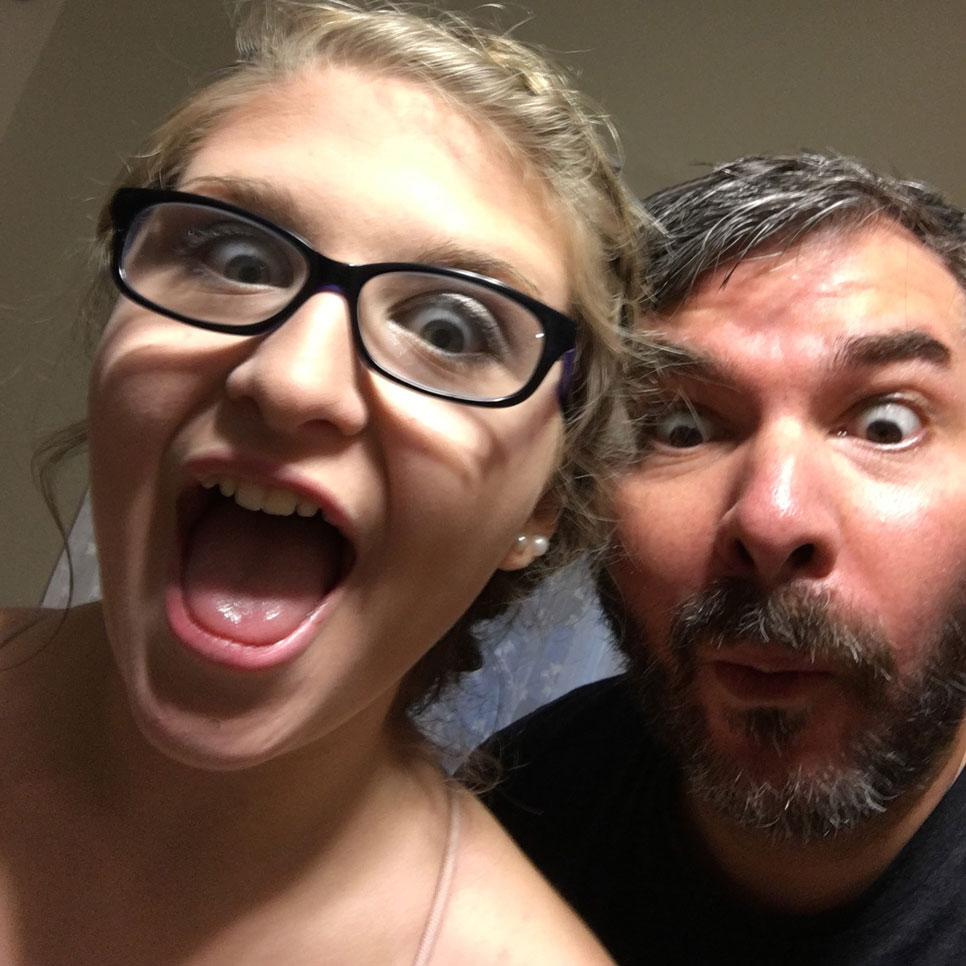 Playing around with Liz taking selfies before homecoming of her senior year.
Technologist

Zombie Expert

Beer Geek
UX & UI
Before I start building solutions, I take the time to learn about businesses and the message they are trying to communicate to the world. Using various tools and techniques, I research users and gather requirements gaining the right knowledge and understanding to yield user experiences and interfaces that help businesses achieve their goals. Crafting unique, individualized solutions from the drawing board—I don't believe in a cookie-cutter approach.
Brand Identity
A brand is more than products or services offered by a company under a particular name. It is not your logo. It is you. Your employees. Your customers. Your brand is the emotional and experiential associations people feel when they connect with you. Your brand is how you make people feel, and it's what they think of when they think of you. It is everything your company represents. I work with companies to help determine if brand perception is reality and help get them back on-track if it isn't.
Web Design & Development
Web development is a very broad term. It involves everything required for building a site for the World Wide Web or an intranet. This includes code, design, testing, and content development. My approach ensures the solutions I create are not only visually appealing, incorporating user friendly features, and search engine friendly code, but they provide consumers with an experience connecting them with the brand.
Business Strategy
Sometimes technology is so powerful, it changes people's lives. This creates new opportunities for businesses to connect with consumers and capture new audiences. One part art and one part science, I work with organizations to help them achieve long-term business objectives. I am committed to creating smart solutions for my clients.
Social Media
I develop innovative solutions for clients' unique marketing challenges. By approaching marketing and advertising with a different perspective, I am able to devise highly targeted social media strategy. This is achieved by combining different media into a seamless experience, it ensures that all messaging and communications strategies are consistent across all channels and are centered on the brand experience.
Photography
I come from a traditional photography upbringing: film, paper, chemicals and a real darkroom. As I transitioned to a digital workflow I felt my background gave me a serious advantage all of those darkroom skills help me when I'm editing in Photoshop and having been raised on film I carefully compose images in camera and in the studio.
Here's a  video of my buddy Chewie I created a couple of years ago—he was a puppy then enjoying his very first snowfall. It was shot on a GoPro. Enjoy for now until I replace this with a video of me talking more about what and how I do what I do.
Here are a few pictures. Click them to view larger versions or hit the button below for my portfolio.
Let's Start Something new. Say Hello!
If you're ready to make a bold move because what you are doing isn't working, I can help.
Use this contact form to send me an email and let's get the conversation started today.